Because we can never forget...we hate Phil Kessel. ( Livestrong style bracelets may or may not be on the way).
Some
QB
is coming back, I don't know he's supposed to be pretty good.
Mike Wilkinson and a few tag-alongs play the Buckeyes
tonight
.
This can't be, the Urinal has discovered there is a
hockey
team...in Wisconsin! Great way to recognize em...
His team has won only two of its last 10 games, kicked away a chance to win
the Western Collegiate Hockey Association regular-season title, scored more than
three goals just once in its last 13 games and hasn't won consecutive games
since Jan. 22 and Feb. 4.

Must win weekend for the badgers, more
here
. An article on why the games are being
moved
out of the Kohl center, to the old time Dan County Colliseum (I will never call it whatever it is now, and the Mecca will always be the Mecca).
We still hate Phil Kessel, look at this guy, he's too goofy lookin for the Cardinal and White. Fits right into that maroon n mustard.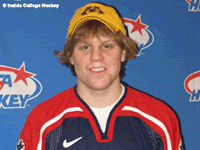 Badger fans also got another solid defensive
recruit
.
Eaves bags another defensemen, another early commitment for 2007-08. Nigel
Williams, currently a 16 year old 6-3 210 lbs defenseman, set to play with the
USNTDP next year.

OSU sucks
,
Gophers suck
,
Syracuse
sucks. Oh,
Alaska Anchorage sucks
. (
Links will give you live scoreboards for the respective games that matter).